Elections 2022 Tracker: Updates Every Hour » 13 UK Elephants to be Flown to Kenya in Ksh137 Million Plan
According to multiple international publications, the elephants will be flown aboard a Boeing 777 cargo and be released into the wild in Kenya at a sanctuary in the Coastal region.
Aged between one and 34 years, the transportation of the eight females and five males will cost approximately Ksh137 million ($1.2 million)
The animals are currently housed in an 8-acre (3.2-hectare) enclosure at Howletts Wild Animal Park in Kent, UK.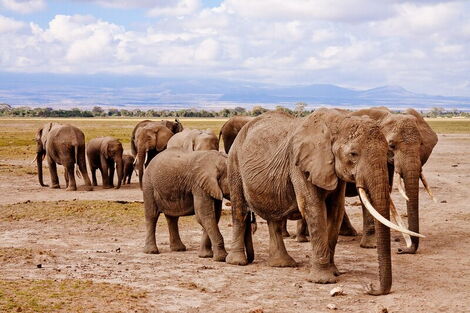 Elephants at a sanctuary in Kenya
Earth.org
In 2021, the Aspinall Foundation announced the plan, stating that they sought to restore ecosystems to a natural state through the reintroduction of the elephants as part of their re-wilding mission.
It added that it hopes the project will speak against the poaching of elephants and the global trade of trophies.
"This is an incredibly exciting project and a genuine world-first," Damian Aspinall, chairman of The Aspinall Foundation, stated.
According to the Foundation, Sheldrick Wildlife Trust, the Kenya Wildlife Service, and two sites in the south of Kenya would partner with it in the relocation plan.
Kenya's Ministry of Tourism, however, denied that it was consulted on the project.
"The ministry wants to state that neither it nor the Kenya Wildlife Service (KWS) has been contacted or consulted on this matter," a statement dated July 7 read.
Sheldrick Wildlife Trust, nonetheless, confirmed its partnership in the unique world rewilding project.
"We have been helping elephants, providing a wild future to more than 260 rescued orphans and operating extensive protection projects to ensure they, their wild-born babies and their wild kin are best protected throughout their lives," Angela Sheldrick, Sheldrick Wildlife Trust CEO stated.
In 2020, The Aspinall Foundation relocated two cheetahs back to the wild in South Africa.